Travel in Spain was once viewed in a negative light: from the package holidays of Torremolinos, to 18-30 Canary Islands partying, timeshares and holiday homes for British gangsters. It's a country that I thought held few surprises - until I visited Seville.
I arrived on a cloudless November day with the temperature in the mid-20s and the sun illuminating the beautiful old town district of Santa Cruz. It's the best place to stay in Seville and has been immaculately preserved in all its pristine, pastel-coloured glory. I was taken aback by the summery pinks, yellows, blues and greens of the freshly painted buildings adorned with elegant iron rail balconies that line quaint cobbled streets. Running along the pavements are the famous orange trees which grow in almost every corner of the sun-drenched city.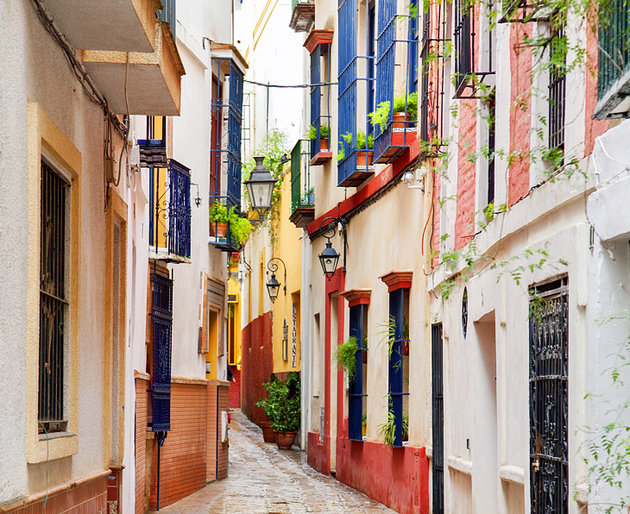 Seville is imbued with the colourful decor one normally expects to find in the Caribbean, complimented by a welcoming Spanish ambience. The fierce sun shines almost constantly from April to October and is barely dimmed by the mild Andalusian winter. It's a great short haul option is you're after some post-Christmas warmth.
I found it was easy to lose myself for hours down the back streets of Santa Cruz and the neighbouring districts of the old town. I spent most of my days sauntering from one tiny, lovingly maintained town square to a peach-blushed palace that looks good enough to eat; then stumbling upon a quaint hidden church that huddled period buildings have hidden from the eyeline of the inattentive passer-by. I felt as if every corner I turned presented a sight that demanded another photograph.
The occasional stop at one of the many tapas restaurants and sherry bodegas is almost obligatory. At night the cobbles ring with the clatter of late night revellers and the air bubbles with local chatter well-oiled by the local wines and Sherry from nearby Jerez. Bar-hopping is a great way to immerse yourself for hours in the city's buzzing atmosphere.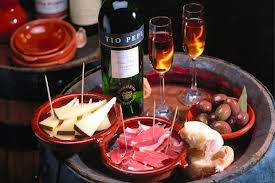 Certainly, this is not a city where the food and drink choices are limited. It is one of the joys of Seville. However, when I wasn't wandering rudderless, I did find that there are several worthwhile tourist sites to visit, perhaps the most important of which is Seville Cathedral.
Over the last decade I have seen more than my fair share of Cathedrals. Throw in dozens of temples, mosques and churches and my appetite for religious architecture has become jaded. Yet Seville Cathedral proved to be the perfect antidote. Renowned for housing the tomb of Christopher Columbus, it is the largest Gothic Cathedral in the world and stunning inside and out. The buttresses and domes are a mish-mash of intricate majesty which loom far above the surrounding skyline, peaked by the Giralda, the bell tower converted from a minaret built by the former Islamic landlords in 1198.
The other must-see tourist site in Seville is the Alcazar, the royal palace that boasts the best in Moorish architecture and spectacular, lush gardens.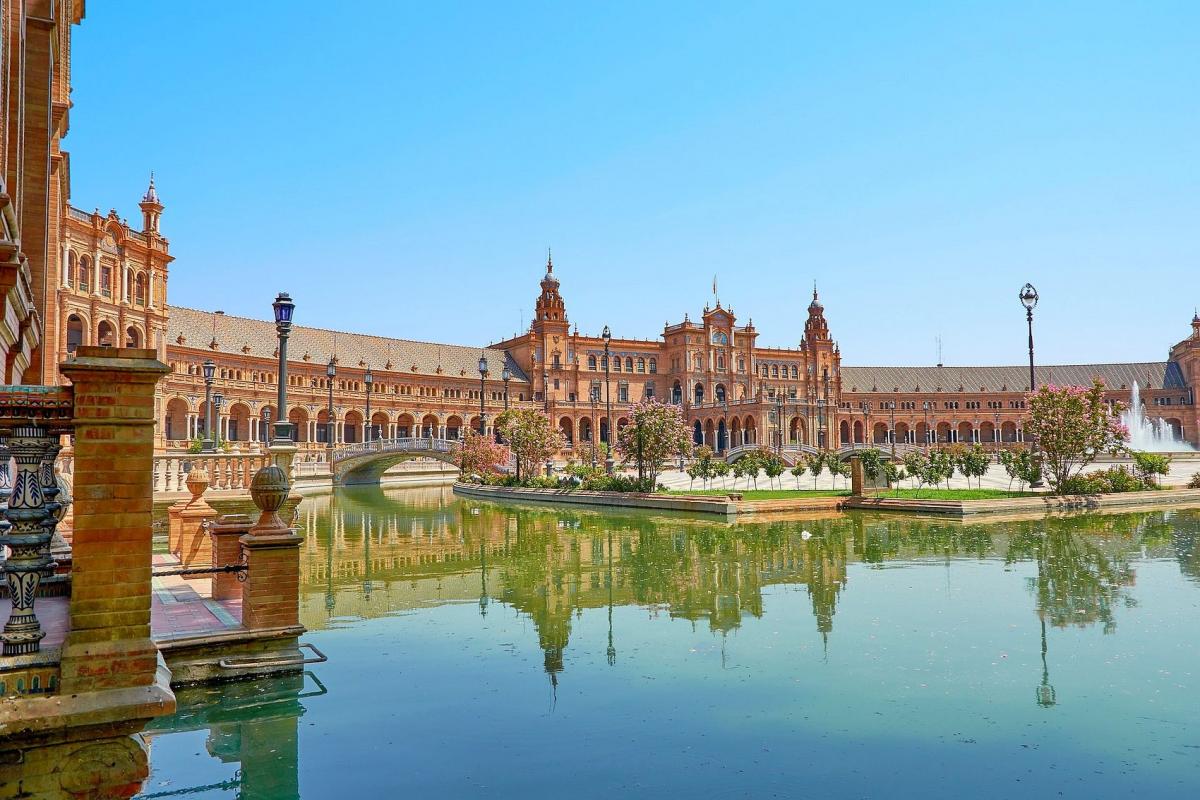 I also found the nearby Plaza de España (pictured above) to be worth visiting. It is a palatial crescent traced by an arcing boating canal, ornate Venetian bridges and tiled alcoves that represent the different provinces of Spain. I spent several hours relaxing in the shade, reading and people watching.
This sums up the simple pleasure of Seville. It is not a city where you feel obliged to dash from one attraction to another. The enjoyment comes from ambling without an agenda, stopping for tapas and coffee when you feel like it, and moving on again when the mood takes you. I left the city pondering why Seville isn't better known as a destination, yet feeling thankful that I've finally been introduced to one of the unsung urban joys of Europe.
Where to stay:
Puerta De Sevilla (Puerta de la Carne, 2, Casco Antiguo) is a gorgeous 1-star hotel. Their picturesque double rooms are a bargain at £36 a night.
For glamour try Hotel Alfonso XIII (San Fernando, 2, Casco Antiguo). Their £300 a night rooms are the last word in Andalusian opulence.
Where to eat:
Taberna Coloniales (Plaza Cristo de Burgos 19) is a cosy tapas restaurant with great food and deserts but get there early or reserve a table as space is limited.
La Manzanilla (located off Calle de Alphonse) served traditional food that is both delicious and affordable food in a bubbly atmosphere
How to get there:
Easyjet and Ryanair both fly there direct from £150 upwards while British Airways fly indirect via Madrid for around £250.
Tip: if you are a member of Emirates' Skywards Frequent Flyer programme you can use air miles towards buying an Easyjet flight. However, an Easyjet flights doesn't earn Skywards miles.