There is a strange psychology that some people exhibit when discussing a travel destination that has a very strong stereotype attached to it. There are some ubiquitous truths which travellers seem very reluctant to deny. It's almost as if contradicting the generally accepted opinions about a place would reflect badly on the naysayer.
I spent two weeks in Japan in October, predominantly in Tokyo, and I am a naysayer. While there are both pros and cons to Japan's capital city, like everywhere, I want to share some 'truths' with which I disagree. Here are my top 5 mythbusters:
The bullet train
I have always been dubious of travelling to a city where one of the top attractions is a train that takes you out of it. In this case, a train that first went into service in the 1960s. Is it quick and comfortable? Yes. Is it amazing? No. The bullet train is a form of transportation, not a must-do tourist activity. It's nice enough but there is very little space to store luggage so your bags either hang out of the small overhead racks or you have to balance them precariously on your knees. There is no buffet car, and only very occasionally does an attendant whizz past with a trolley with some unedifying snacks. And it's far too expensive (around $130/£100 one way). Yes, the travel pass can cut costs if you are travelling extensively, but that doesn't help much if you only want one or two journeys. And buying the tickets can be hell. Which brings me on to point two.
It's not so high-tech
A vision of the future Tokyo is not. From buying a train ticket to booking into a hotel it is a paper, cash and clipboard society where contactless payments are considered an oddity. Buying a travel pass requires tolerating huge queues in understaffed offices and simply buying a ticket at the subway can take an age. In part, this is due to the multiplicity of companies that run separate subway lines in Tokyo. In the UK, they have an oyster card system that can be topped up with a tap to enable travel throughout London. Tokyo, by comparison, is in the analogue age.
The huge skyscrapers and neon signs, which I expected to be like a movie set from Bladerunner, looked like a mini Las Vegas from the 1950s. There were bright lights in some parts of the city, but nothing that most travellers won't have seen done bigger and better before. They appeared old and worn from a bygone era that hasn't kept up with the global pace of change.
And good luck asking for help.
The language barrier and the rules
While you should not go to another country and expect them to speak your language, it should be too much to expect at an airport or a tourist information booth in a major global city that encourages tourism. The lack of basic English was difficult in the main tourist centres and hotels in the capital city. Everywhere else it is almost non-existent.
However, you will hear English shouted when it comes time to enforce the rules, no matter how pedantic. For example, in the ubiquitous 3-star APA hotels they will not let you check-in even 5 minutes before the authorised check-in time of 3pm. If you are not standing in a line in the correct manner at the station they will bark at you. Divergence from the standard is not tolerated and the famously polite veneer snaps aside when there is an opportunity to hold a transgressor to account. It is not a friendly society, but it is a polite one, as long as you do not display any signs of individual thought.
It's not so clean
Compared to many Asian cities, Tokyo is clean. But due to the stereotype, I was expecting so much more. In the central area of Shinjuku for example, litter blows freely around the streets, the locals drink and scatter their empties across Cinecity square in the Shinjuku area, and on a Saturday night there is a fair bit of vomit around. There are dirtier cities, but there are cleaner ones too.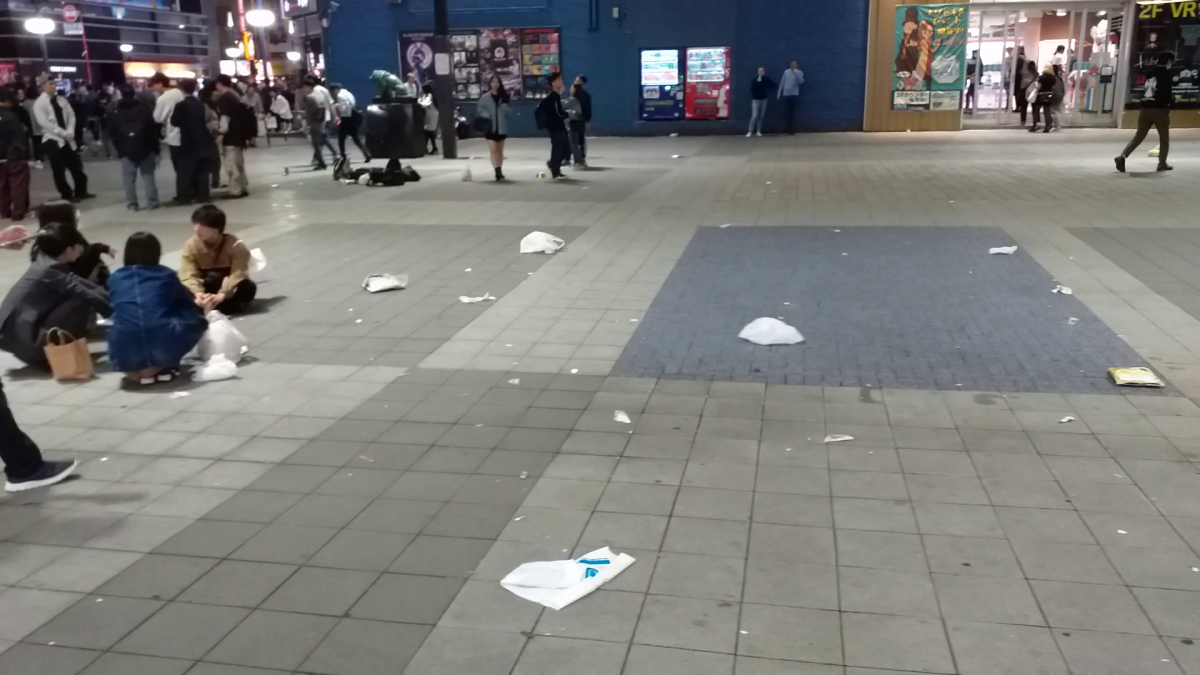 Accepting history
Take a visit to their war museum and you will understand why the Chinese and Koreans still bear deep grievances. The Japanese crimes against other Asian nations objectively bears comparison to the crimes committed by the Nazis in Europe. Yet the Japanese official history lists their nation as brave liberators throwing off the colonial powers from their neighbours. The other Asians nations disagree, and while Japan celebrates its military history and refuses to acknowledge war crimes in places like Nanjing in China, the relations with the rest of Asia continue to sour.
While there are many aspects that tourists from across the globe continue to adore about Tokyo and Japan, I hope this adds a sprinkle of perspective. It is an interesting and unique country, but it is surrounded by commonly held travel myths that, in my opinion, do not stand up to an honest appraisal.